Flexible lane configuration for intersections
The application of flexible lane configuration for signalised intersections is sometimes beneficial for traffic delays, but sometimes not. This is the conclusion of the research conducted by Frank Anema and supported by TrafficQuest. He did his master thesis on this topic and received his MSc degree with the report entitled "Model-predictive control of the lane configuration at signalized intersections".
Flexible lane configuration
At this moment there are five intersections in the Netherlands with a flexible lane configuration. This means that during a certain period of the day an extra lane is available for a busy movement on an intersection and the same lane is available for another movement during the rest of the day.
Traffic in the Netherlands 2015
At TrafficQuest, we hope to ensure that the Netherlands maintain its leading position in the field of traffic management. We contribute to this by collecting, analysing and disseminating knowledge. We do the latter in our reports, articles and recommendations, but of course also with this annual report Traffic in the Netherlands 2015.
Impacts of traffic management (May 2015)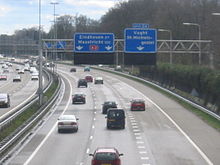 Since 2008 an overview exists in which the results of (almost) all assessment studies for traffic management in The Netherlands are summarised. This is an important source of knowledge related to impacts of traffic management and is useful for policy and operations. TrafficQuest has updated this overview with the latest results and it contains now the research of 190 reports. The references of these reports are given in the de reference list. As usual, the number are contained in tables, given in this overview. Both are in Dutch.
European Transport Conference 2014
The European Transport Conference is a yearly organised by the Association for European Transport (AET). Rijkswaterstaat is a member of this organisation, that aims to be a platform of European transport professionals and that promotes the exchange of ideas, information and possiblities for cooperations among its members. From September 29th until October 1st 2014 this conferenc was held in Frankfurt, Germany. Henk Taale attended it and presented the road safety situation in the Netherlands. He also presented a paper on the use of traffic lights to meter traffic. All in all it was a interesting conference with a good mixture of research and practical topics.